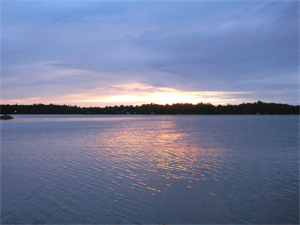 LOWER BEVERLEY LAKE
Lower Beverley Lake is in southeastern Ontario, Canada, originally part of the "Irish Creek" survey plan for the Rideau Canal, now just south of the Rideau Canal, separated from the Rideau system by a dam at Morton.
Upper and Lower Beverley Lakes were included in the original surveyed plans for the canal in the early 1800 but there would have been insufficient water to maintain the water levels in the summer and so the plans were altered.
Situated between the two lakes is the town of Delta, Ontario, named for the formation of land between the two lakes, and the historic Delta mill.
LINKS:
General Information on Lake Water Quality
Phosphorus, Urban Runoff and Aquatic Weeds
Lake Links is a one day workshop held every October, in Perth, Ontario. It attracts citizens and scientists to share ways we can help sustain our lakes and rivers.  Individuals spread across five watersheds in Eastern Ontario (and beyond) attend this day-long event to learn, network and see what's new. Each year they address the lake and river issues that matter most to our communities with expert speakers, breakout sessions and dynamic presentations.